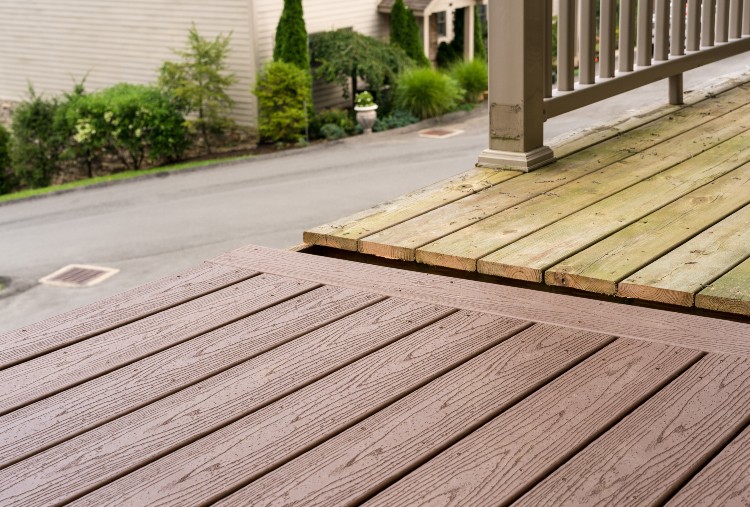 Adding a new deck to your backyard can instantly improve your lifestyle. And if you already have a deck that's been there for several years, it might be time for a deck replacement. Regardless of your situation, deciding between a composite deck and a natural wood deck is one of the most important things to consider. There are some major advantages and disadvantages of each material to help you make the best decision. We've discussed those here for you.
Consider The Durability Between Natural Wood And Composite Decking
Natural wood decks are often the top choice for homeowners because wood is durable and can last up to 30 years when maintained properly. However, composite decking contractors will tell you composite decks are even more durable and can last for around 50 years if it's cared for.
When natural wood decks are exposed to harsh weather elements, they can eventually splinter, warp, rot, and even attract termites. So if your wood deck will be rained on, then you'll have to deal with these issues over time. Wood decks will also fade when intense sunlight hits them, so you'll constantly need to stain and protect them. Generally, composite decking contractors agree you don't have to worry about those issues with composite decking. The long-lasting and durable materials are designed to be long-lasting no matter the weather elements where you live.
Understand The Maintenance Required
Whether you're looking at a deck replacement or installing a new deck from scratch, you should understand the maintenance required for each type of material. While a natural wood deck looks amazing when it's first installed and for many years, it takes a lot of work and maintenance to keep it that way. It's important to clean the deck of any debris as soon as possible when it looks dirty, and many people choose to lightly pressure wash it a few times each year. And since decks tend to have a lot of foot traffic, you'll also have to repaint or stain it every couple of years to keep it looking nice.
With a composite deck replacement, you don't have to worry about having to repaint or stain it. And as far as cleaning goes, sweeping it off when needed and scrubbing it with soap and water a couple of times each year is all that's usually required to ensure it remains in great shape. Most composite decking contractors see people choose composite decking over natural wood primarily because of the less maintenance required.
Cost Considerations
Cost is always a consideration whether you're looking for composite decking contractors or comparing deck materials. When you're building a new deck, you don't want to opt for cheap labor or materials because you likely won't be satisfied with the end product. And it likely won't last as long as you'd like.
While there's nothing wrong with a traditional natural wood deck, it's enticing for people because the materials are less expensive upfront. However, what many people don't consider is the investment you have to make to maintain it. The cost of paint and stain can add up over time, not to mention the hours you have to spend every year keeping it clean. On the other hand, composite decks are more expensive to install, but you shouldn't have to spend much more on maintaining them in the future. So if you're on a budget now, then a natural wood deck can offer great value. But if you have a little extra money to spend, then it's worth it for most people to invest in a composite deck.
Are Composite Decks Better Than Natural Wood Decks?
There are some clear advantages to composite decks over natural wood decks. Composite decks don't require much maintenance and have a lifespan of nearly twice as long as natural wood decks. Combine this with the durability of composite materials and many homeowners believe the extra cost is well worth it.
However, this doesn't mean natural wood decks should be avoided completely. Some people aren't worried about having to maintain a wood deck and enjoy painting or staining it frequently to change up the look. You can enjoy both types of materials just the same. As long as you know what it will take to enjoy each type of deck for years to come, then you can make an informed decision and feel confident with it.
The Right Contractor Can Help You Make The Best Decision
When you search for "composite decking companies near me," you'll likely see multiple results. Not all composite decking contractors are the same, though, so it's critical to find the best option. Interview multiple companies and have them come to your house to provide an estimate and talk about their process. Cutting corners is not an option when building a deck, and that's what many contractors will do if they offer you a low cost estimate.
Regan Total Construction specializes in building custom decks homeowners can enjoy for years to come. Choosing between a natural wood deck and a composite deck is a difficult decision for many homeowners and we can help present you with facts to help you make a confident decision. We use only the best materials and our professionals will never cut corners during a project. If you're ready to start the process of your deck replacement, contact us today and we would be happy to answer any questions you might have.
Filed under: Decks, Trex Composite Decks, Wood Decks