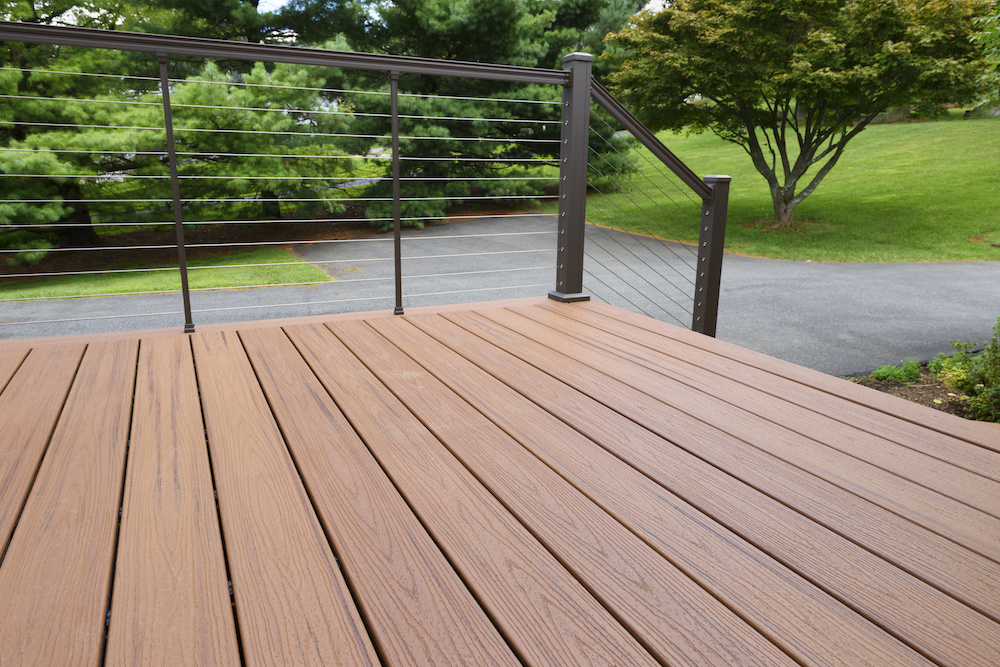 Not many things can transform a backyard like a good-looking deck. You have many different options to choose from depending on the aesthetics you're aiming for, maintenance requirements, durability, and more. Traditional wood decks are popular among homeowners and, with proper maintenance, can be enjoyed for well over a decade. However, composite decking has increased in popularity over the years as it's even more resistant to regular wear and tear, along with year-round harsh weather elements.
When it comes to composite decking, Trex is what most contractors will recommend. Not only does Trex composite decking have different options to meet your aesthetic standards, but it's very low maintenance so you can enjoy it for decades with minimal effort. All Trex deck contractors agree "there are no better options available when it comes to decking materials," and here are some of the year-round benefits you can experience.
Can Trex Decks Hold Up To Rainy Spring Seasons?
A valid concern many homeowners have before installing a new deck is whether it can hold up to rainy spring seasons. Traditional wood decks are more susceptible to mildew, mold, and rot, which can significantly decrease their lifespan and the curb appeal. However, Trex composite decking is much more resistant to these problems and you won't have to worry about structural durability as you do with wood. It's still a good idea to remove the water from your deck, but you can feel more confident if you can't get to it right away knowing it's not creating long-term damage to the composite decking materials.
Does The Hot Summer Sun Make Trex Decking Fade?
Hot and humid summers can take a toll on traditional wood decks. Splintering and warping could occur, and the finish could look particularly rough in areas of direct sunlight. The good news with Trex composite decking is you won't have to worry about fading. Whichever color you choose, you can feel confident knowing it will have the same color for many years, even after going through multiple hot and humid summer seasons. In this regard, you can pick out the color of your Trex decking to match the aesthetics of your home knowing it won't fade and look different after a few years.
Why Are Trex Decks Beneficial During The Fall?
The fall season brings milder temperatures and beautiful foliage from the surrounding trees. But the problem with those colorful leaves is they will eventually fall and end up on your deck. And if you're unable to get them off before the next rain comes, then you'll be dealing with trapped moisture on your deck. With a traditional wood deck, this means you could see mildew or mold growth where the leaves were, and even some staining that could damage the finish. Plus, some of the leaves will end up getting under your deck, which will slowly but surely lead to decay.
With Trex composite decking, these issues are minimized. It's still ideal to remove the leaves from your Trex deck as soon as possible, but the composite materials won't lead to mildew or mold growth as quickly or easily. And any leaf stains that end up on your Trex deck are simple to remove. We all have busy lives and might not be able to take care of the leaves on our decks right away, so Trex decking allows some peace of mind knowing it can withstand the elements much better.
How Well Do Trex Decks Hold Up In The Winter?
Winters in the northeast can be brutal and many different materials can be damaged as a result. The constant freezing, thawing, and refreezing cycles take a toll on traditional wood decks, especially if the sealant has worn off. With old or improper sealing, water can get into the wood and freeze, which causes it to expand and damage the deck boards.
One of the biggest benefits of Trex composite decking is it doesn't have the small cracks or crevices that traditional wood has, so there's no chance of water penetration. You also don't have to worry about sealing your deck every year as you do with a wood deck, so you can rest easy during the winter knowing your Trex deck will be able to withstand the weather elements.
Don't Delay In Building Your Dream Deck
You might not use your backyard deck year-round because of less-than-ideal weather elements, but you still have to think about what your deck has to withstand throughout the year. The best Trex deck contractors can customize your deck to your liking so you can enjoy it for many years to come. Arguably the most attractive feature of Trex composite decking is the low maintenance it requires. When you think about how much more time you'll have to do the things you love, it's well worth the investment.
Regal Total Construction can help you build the deck you've always dreamed of. When our Trex deck builder comes to your home, they will tell you everything you need to know about Trex decks so you can make an informed decision. This includes discussing all of our available financing options so you know exactly how your new deck will fit into your budget. We have helped numerous homeowners create their dream backyard in our 20 years in business, and we're ready to help you next. Be sure to contact us today to schedule a consultation and take the first step in creating a backyard oasis at your home.
Filed under: Trex Composite Decks