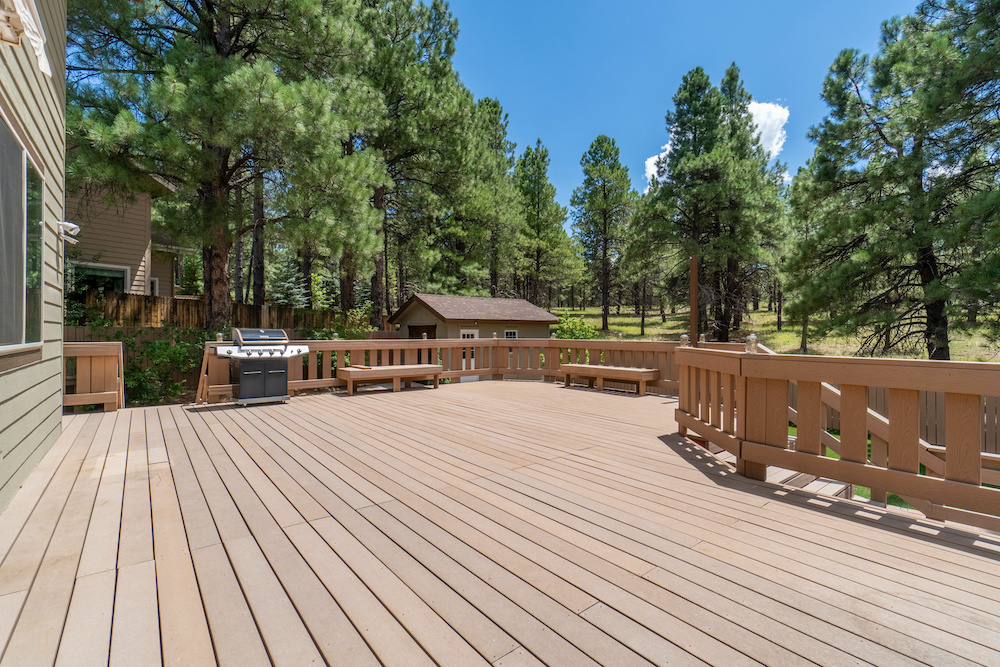 Once you've decided to build a new deck, you need to decide which materials you want to use. A lot of factors might go into your decision, including the cost, how you plan on using it, where you're located, aesthetics, and more. Of course, if you're replacing your existing deck, then you might already know the pros and cons of the material you had previously. Speaking with the top deck and patio builders can help you decide what decking material options are best for your home. We've provided you with some information to help as well.
Pressure-Treated Wood Decking
Pressure-treated wood decking has always been the most popular material deck contractors use to install new decks. The wood provides a classic look and it's hard to argue against the natural appearance it provides. Most deck contractors will estimate the lifespan of pressure-treated wood decking at 10-20 years depending on how well it has been maintained and what elements it has been exposed to.
If your primary concern is saving money, then pressure-treated wood decking is the way to go. It's easy for deck and patio builders to install and the material costs are much lower than other types of decking. However, one thing you have to be aware of with pressure-treated wood decking is the maintenance requirements. You will need to clean it regularly throughout the year and do deeper cleans via pressure washing or scrubbing annually. This type of decking also requires restaining or repainting every couple of years, so your long-term costs can add up.
When you're considering pressure-treated wood decking, deck contractors suggest thinking about the big picture and how much effort you are willing to put into your new deck. If you want to extend the lifespan, maintenance costs will be involved. But if you aren't willing to maintain it, then you'll reduce the lifespan significantly.
Composite Decking
Composite decking is quickly becoming one of the most popular choices homeowners make when it comes to their new decks. The material is made from a mix of wood particles, polyethylene, binders, and preservatives. The lifespan of composite decks is much longer than pressure-treated wood since there's no risk of rotting or warping.
One of the main reasons homeowners choose composite decking, and particularly Trex decking, is the low-maintenance factor. You don't have to do any deep cleaning with composite materials, and simply sweeping it off regularly will keep it looking nice. You also never have to worry about staining or painting the materials, and they won't split or rot. When you speak with Trex deck contractors, you will quickly see why more homeowners are opting for composite decking today.
A downside of composite decking is you have limited options when it comes to aesthetics. And if you decide to change the color of the deck, then the entire thing has to be replaced since you can't simply repaint or restrain it. Another factor to consider is the cost. Composite decking costs about double the price of pressure-treated wood. But when you balance the low-maintenance factors and the longer lifespan, the high upfront cost is a little more justifiable.
PVC Decking
Some homeowners opt for polyvinyl chloride (PVC) decking if they want a long-lasting material and don't mind paying a premium for it. PVC is lightweight and some types are even capped to provide an appearance similar to wood. The great thing deck contractors like about PVC is it's easier to install than composite wood. And homeowners appreciate that it won't rot, never needs to be refinished, and rarely needs to be maintained.
Most of the downsides of PVC decking are the same as the downsides of composite decking materials. In addition, if you're aiming for a natural wood look, you will likely be disappointed with PVC materials. And as far as cost considerations go, PVC decking is even more costly than composite decking, so you will have to weigh the benefits to determine whether the higher cost is worth it to you.
What Decking Material Is Right For Your Home?
The best way to determine which decking material is right for you is to have deck and patio builders evaluate your space. The deck contractors will look at the location of the deck and determine how much direct sunlight the area gets and provide estimations of the lifespan of different materials. While there are some perfect locations where pressure-treated wood decking works well, many times people opt for composite decking. Since composite decking withstands harsh weather elements much easier and requires less maintenance, the cost is worth it in the opinions of many homeowners.
It's very important to consider how much you plan on maintaining your deck. If you like to change the appearance periodically and don't mind doing the necessary work to keep it looking nice, then pressure-treated wood might be your best option. Otherwise, if you want a solidly-built deck that will last for multiple decades without a lot of headaches, then composite decking or PVC is the way to go.
Regal Total Construction can customize your new deck to your liking. When our deck and patio builders come to your home, we want to understand your vision so we can provide you with everything you need to know about your new deck. Our goal is to ensure you understand everything involved with your new deck from the time we begin preparing the area to what it should look like 20 years from now. If you have any questions about decking materials or if you are ready to begin your project, don't hesitate to contact us at any time.
Filed under: Decks, Trex Composite Decks, Wood Decks