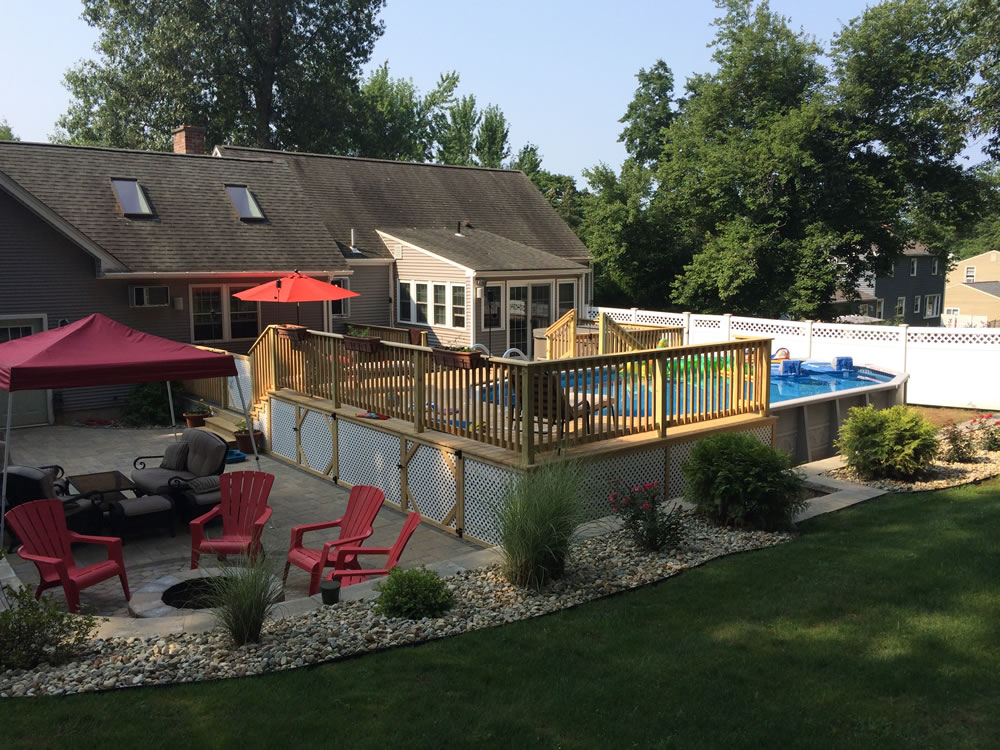 Building A Safe Pool Deck
While your main focus is typically on the pool itself, it pays to spend some time thinking about your pool decking. Aesthetically, your pool decking will determine how well your pool blends into the natural landscape. Choosing the right decking can make a big difference in its appearance. However, there's another even more important reason to pay attention to the decking around your pool and to invest in quality pool deck construction if you haven't already.
Pool decking can vastly increase the safety of your pool, offering a secure walking area to keep swimmers safe if the right materials are used in its construction. All that being said, here are some things you should be considering if you're currently in the process of pool deck remodeling or construction and you want to be sure you get the most out of your pool decking.
Choose Moisture-Resistant Materials
Pool decking is unlike most surfaces just because of the way it is used. Its location around the swimming pool means it spends a lot of time exposed to water, which means water-resistance should always be a factor when choosing a material. The last thing you want is to choose a cheaper material and have your pool decking to begin to show signs of damage because of exposure to water from your pool or to incur extra costs because of the need to frequently reapply a sealant to keep it in good condition. Some of the best possible materials for pool deck construction or remodeling can include poured concrete, concrete pavers, brick, stone tile, and even natural or composite wood so long as it is of good quality.
Keep Swimmers' Safety in Mind
Of course, moisture, along with barefooted swimmers, leads to a higher chance of slips and falls. This means it should be a priority for you to find a high-quality material for your pool decking that can provide a good amount of traction, reducing the potential for injury. For example, stone provides natural friction and is a good solution to help ensure individuals walking barefoot around your pool have less of a chance to slip and fall even if your pool decking is exposed to a great amount of water.
There are various types of surface coatings available as well. They may contain epoxy or combinations of polymer resins, sand, and cement, all of which help ensure your pool decking has a non-slip surface and is able to resist water as well as the various pool chemicals your pool decking is going to come into contact with over time.
Take the Heat Off Deck
Another important thing to remember is that pool decking can – and will – retain heat. While it won't always be dangerous to you and your guests, it can certainly be uncomfortable, especially under the blazing summer sun. This is another thing that makes choosing the right material for your pool decking a critical task. Additionally, remember that if your current pool decking is like walking on hot coals in the summer heat, it may be possible to complete a pool deck remodeling project to make it a lot more comfortable to walk on or lie out on with just a little bit of work.
For example, if you already have concrete pool decking, stone tile can be placed on top. Choose unglazed stone tile for safety, and opt for lighter shades that won't attract the heat. Wood feels great underfoot, but you'll have to be careful if you opt for wood and choose a quality material such as cedar, redwood, or teak as these woods are capable of repelling water damage as well as possible damage from insects, meaning they will require less upkeep in the long run.
Remember the Surrounding Landscape
One of the most important things pool decking does is it helps connect your pool to the area around it. During the pool deck construction process, one of the things you'll want to keep in mind is how you can use your new pool decking to make your new pool a part of the landscape. For example, stone tile is a great way of incorporating a pool into an area, as it provides a more natural look, especially with natural-looking stones such as travertine, limestone, and sandstone. Meanwhile, those with classic homes will often find that brick is a great option, having a more traditional aesthetic.
Don't Forget the Foundation
With all of the above being stated, one of the most important things to remember is that no pool deck construction project can ever start without taking a good look at the foundation. Even in the case of many pool deck remodeling projects, it can be a good idea to take a look at the foundation to ensure it is in the best possible condition before moving forward, ensuring it is capable of standing up to plenty of future use without cracking, shifting or breaking down. Various types of pool decking all require different types of foundation but in all cases, it is vitally important that this foundation is sound and stable.
Additionally, when preparing a foundation it's important to check for factors such as whether a channel will be needed for drainage, as may be the case if the pool area is located on a slope. This will help ensure that the pool does not flood in the event of a storm. In some cases, pool decking might need a slope for water to drain away, such as when building with concrete, tile, brick, or pavers.
Pool deck construction can be challenging, but once you get out in the summer sun and hit the water with friends and family, the challenge is well worth it! Of course, you don't have to go about building your pool decking all by yourself.
The team at Regan Total Construction is here to help you design and build your pool decking, ensuring you have beautiful pool decking that will last for many years to come. If you would like to learn more about how our team can help you with your pool decking construction or remodeling project, contact us today!
Filed under: Pool Decks