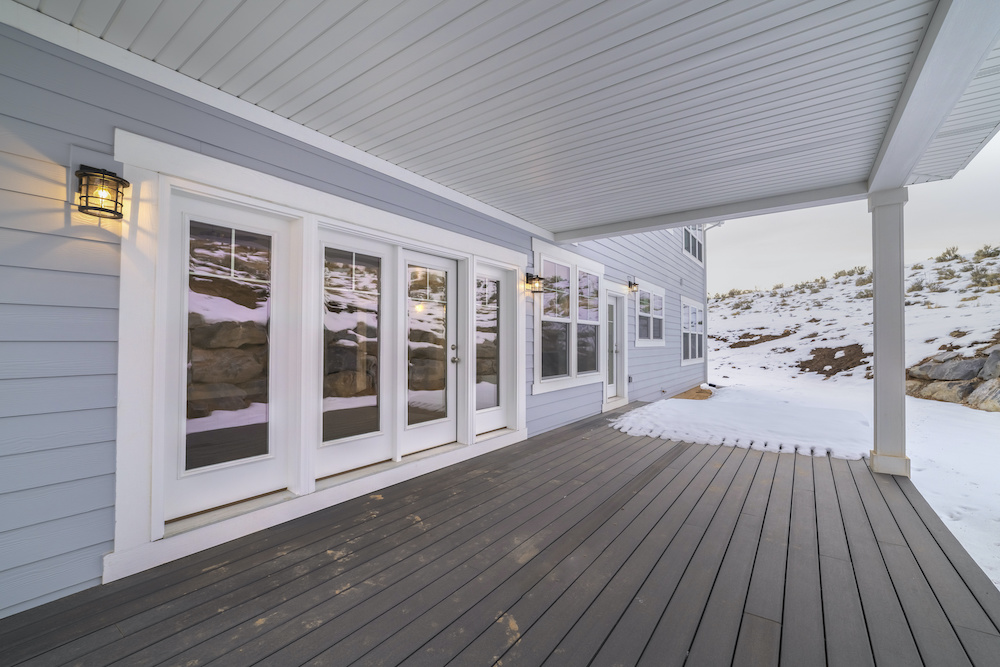 If you've been thinking about adding a deck to your home and are considering waiting until the spring, you might want to reconsider. It makes sense as to why people think building decks in the spring and summer are ideal since those are the times of the year when they'll use them most. However, having your deck built in the winter can give you some hidden advantages.
Can I Build My Deck In The Winter?
The short answer is yes. And it's not only possible to build your deck in the winter, it's much more ideal than waiting until spring. Any call you make to deck companies will likely give you the same answer. You might think it's too cold to take on such a project like building a deck, but deck contractors disagree. Here are several reasons why you should have your new deck built in the winter.
Your Deck Will Be Ready To Use In The Spring
If you wait until the spring to build your deck, then you could be missing out on a few weeks of using your deck. On the other hand, if you build your deck in the winter, then you might not be able to use it immediately since it's cold outside, but it will be ready for use when the temperature warms up. This gives you time to purchase furniture and other decor to personalize your deck so you'll be prepared to host outdoor gatherings as soon as spring arrives.
Staining A Wooden Deck In The Winter Leads To Better Results
Many deck contractors also suggest building a deck in the winter if you plan to stain the wood. The dry air is ideal for staining compared to the humid air in the spring and summer. Wood will absorb moisture from the air and potentially lead to cracking or peeling in the stain. Plus, if it's too hot outside, the stain could dry too quickly and lead to streaks or watermarks.
Twisting And Splitting Of Wood Is Less Likely
The pressure-treated wood used by the best deck and patio builders is designed to last a long time. However, pressure-treated wood needs a couple of months to dry, and winter conditions are ideal. If the wood has to dry during the heat of the summer, the humidity could cause it to take even longer to finish the drying process. And direct sunlight on the wood during the summer can cause the wood to twist and split while it's drying. These are issues you don't have to worry about during the winter.
You Could Save Money On Material Costs
Sometimes the companies where deck contractors get materials will lower the prices during the winter since the demand is not as high. The best deck companies will then pass those savings on to their customers to make it more attractive for them to complete their project now rather than waiting.
Labor Costs Could Be Cheaper
Some deck and patio builders often lower their labor costs during the winter since it's typically not as busy for them. So when you combine the potential lower material costs with the lower labor costs, you might be able to have your deck installed for much cheaper than you thought without sacrificing quality. And since most contractors aren't as busy in the winter, you can be more selective when choosing deck contractors to ensure you hire the right company for the job.
Your Yard And Landscaping Won't Be As Damaged
If you're worried about your yard and landscaping getting damaged because of heavy foot traffic while building your deck, then completing the project in the winter can prevent it from happening. Your grass should be dormant and the ground is firmer so you can expect minimal yard damage. And the best deck contractors will be mindful of any landscaping you have and do their best to work around it so you won't have to start over in the spring.
Get Your New Deck Built Quicker In The Winter
When deck companies aren't as busy in the winter, they can focus more on your project rather than bouncing back and forth between projects. So what normally could be a three or four-week project could be done in about two weeks as a result. This isn't a guarantee, but it's worth talking to your deck and patio builders about so you can have proper expectations.
Building a deck in the winter can potentially save you money on material and labor costs, get it built quicker, make it look better, and it will be ready to use when the temperatures warm up. These are great reasons to get started on your deck building project and Regan Total Construction is ready to help. We build decks year-round and have specialized in residential deck projects for more than 20 years. Our experienced deck builders can customize any deck to fit your specifications and we always strive to exceed your expectations. Now is the perfect time to get started on your project, so contact us today to learn more about our company, our quality of work, financing options, and to get a free quote.
Filed under: Decks