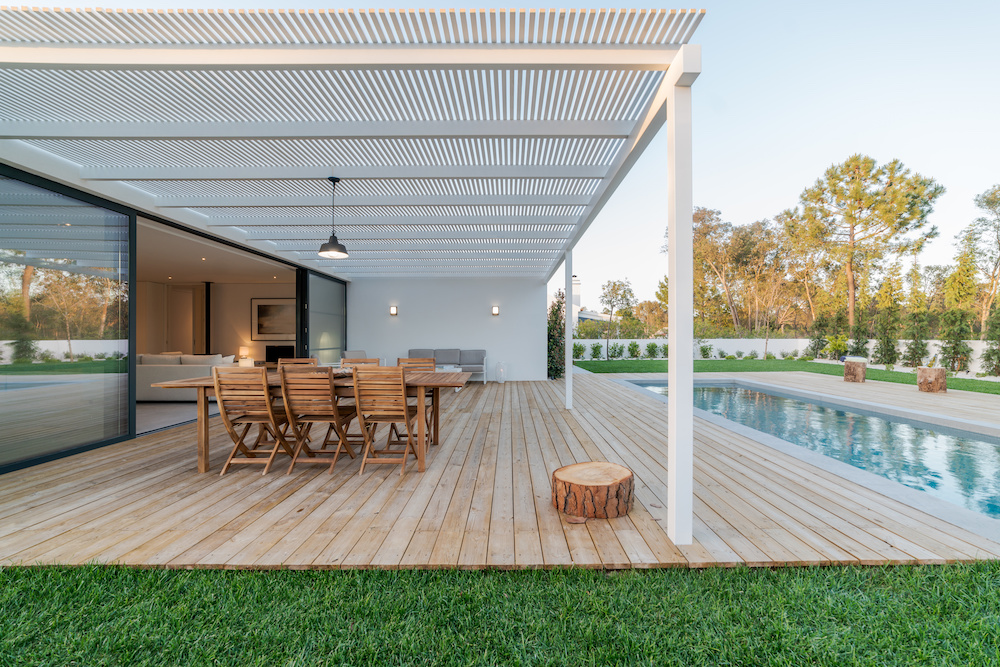 Homeowners who don't have an outdoor deck at their home might not fully appreciate the benefits until they have one. On the other hand, people who currently have a deck might not use it year-round because various weather elements keep them inside. The good news is both situations can be solved when you work with local deck contractors to design an all-season deck for your home. An all-season deck is designed with all weather elements in mind so you can enjoy it year-round, rather than just in the spring and summer months. We've discussed some of the basic deck renovations to consider if you have an existing deck or new design ideas for your new custom deck.
Use Durable Materials
Most people believe wood is the best option when it comes to building a deck. While it's a strong material that will last many years, it also requires a lot more maintenance and can wear down depending on how harsh the weather elements are in your region. A better alternative is using composite decking materials, which are the strongest and most durable available today. Composite materials won't wear down as quickly when dirt, leaves, and debris collect on them throughout the year, and you won't have to worry about the materials splintering over time. The maintenance for composite materials is low as well, so you'll be able to preserve the like-new look for years to come.
Incorporate Shade Whenever Possible
When completing deck renovations, think about where the shade will come from. One reason why shade is important is it will protect your deck from intense direct sunlight. Another reason is so you can enjoy being on your deck when it's hot outside and still feel comfortable. If you don't have any trees nearby to provide adequate shade, then local deck contractors may suggest installing a retractable awning or maybe even a pergola. The benefit of a pergola or awning is it provides shade as well as protection if you want to sit on your deck while it's raining.
Create A Partial Enclosure
Local deck contractors understand what weather elements you'll typically see throughout the year. Sometimes this means creating a partial enclosure when designing an all-season deck. Partial enclosures are often in the form of a screened-in porch, but there are several options your local deck contractors will discuss with you. The goal of a partial enclosure is to keep you comfortable no matter what the elements are outside. A screened-in porch can protect you from bugs in the summer, snow in the winter, rain in the spring, and any other elements that could create an uncomfortable environment.
Don't Forget About The Winter Season
Many homeowners completing deck renovations don't think about how they'll use the deck in the winter because they've never used their deck in cold weather before. When you work with experienced local deck contractors, they'll provide you with plenty of ideas to make your deck useful even when it's frigid outside. This could include building in a fire pit or other heating device. Or it could even be installing an HVAC unit in your partial enclosure to ensure you stay warm in the winter. You have a lot of custom options available, so think about how you would like to enjoy your deck in the winter and your local deck contractors can help you out.
Invest In Weather-Proof Furniture
The furniture you choose for your all-season deck is an important decision as well. You don't want to choose furniture that you'll have to replace every year because it can't withstand the elements. Weather-proof furniture is the best way to go for all-season decks since it can withstand harsh UV rays, heavy rainfall, snow, dirt, and any other elements you encounter. In addition to comfort, you want your deck furniture to look great as well, and weather-proof furniture is the best way to accomplish this.
Work With The Best Local Deck Contractors
When you're ready to start designing your custom all-season deck, you'll notice you have plenty of options when it comes to deck builders. A simple search for "home deck builders near me" could yield dozens of results, which could be overwhelming to think about. One thing to note is that you should find a local contractor that specializes in deck building. Building codes have increased annually for several years and many general contractors do not keep up with all of the changes. Everything from fasteners to framing layouts must be done a specific way or the deck could have issues and warranty will not cover those issues. Protect your investment by working only with local deck contractors that specialize in deck building.
Regan Total Construction has specialized in custom residential projects for more than 20 years. We know exactly how to design all-season decks that will last a long time and fit your budget at the same time. An all-season deck is not something you want to have to replace every few years. Selecting quality materials and working with experienced contractors is essential in this regard. We take great pride in our work and turning our customers' visions into a reality. If you're thinking about designing an all-season deck, contact us today to schedule a consultation and learn more about how we can help.
Filed under: Decks