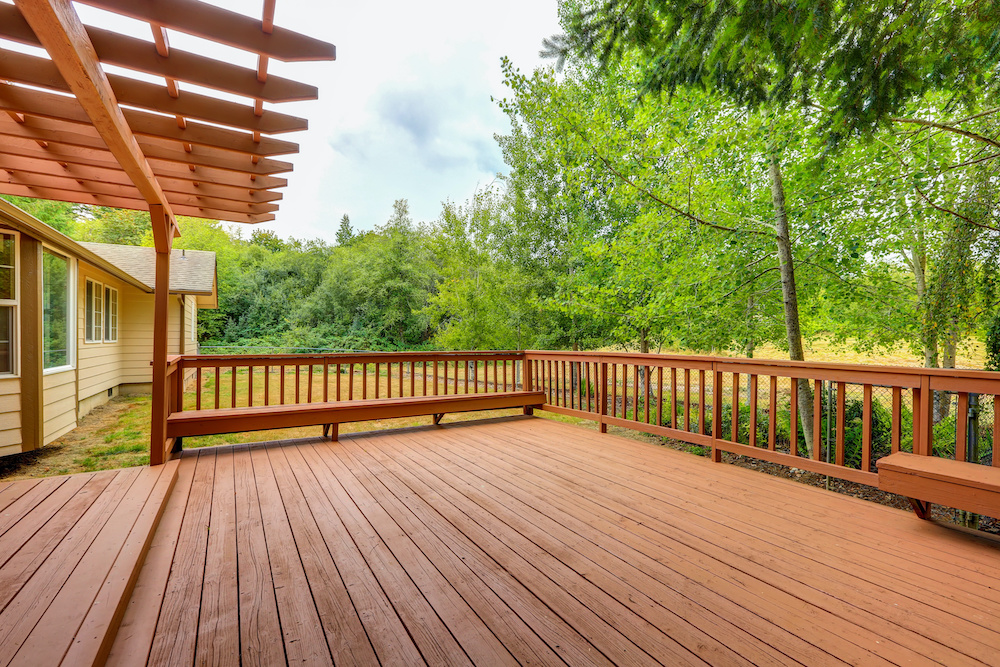 Building a new deck is one of the best investments you can make for your home. Not only will you enjoy using it for years to come, but your home will also be more attractive to buyers if you ever decide to sell it. You can probably already envision how you will use your deck during the warm months. Maybe you want to have small gatherings with family and friends or simply enjoy a peaceful evening sitting on your new deck alone.
While it's great to have a vision for how you'll use your deck, you also need to think about how much maintenance you want to do to it, what design you want, and more. When you think about these factors before contacting a custom deck company, you'll be able to explain exactly what you want and they will be able to deliver. Here are some of the main factors to consider before starting your deck addition project.
What Decking Material Is The Best For Your Deck?
When most homeowners contact deck patio builders about designing a new deck, they don't realize they have more options than simply wood. Composite decking is one of the most popular options today since it looks like wood, but uses artificial materials to make it much easier to maintain. You'll never have to worry about composite decking splintering or warping, and you won't have to re-stain or re-paint it every few years as you do with natural wood. Composite decking is a little pricier than natural wood upfront, but many homeowners believe the cost is worth it when you factor in the low maintenance aspects.
Vinyl decking is also a popular choice deck contractors suggest for new decks. You can customize the look of your deck more with vinyl and it is even more low-maintenance than composite decking. Vinyl decking boards won't scratch or damage as easily as other materials and they won't fade as quickly even when it's in direct sunlight. It's the most costly material, but it also offers the most options and much less maintenance.
Of course, the beauty of traditional natural wood decks is still a common choice among homeowners. Wood decks are more affordable than any other material and you can paint or stain them to create the aesthetics you desire. The problem is wood decks require much more maintenance than other materials. The boards are susceptible to mold, rot, splintering, insect damage, and more if you don't maintain them regularly. This is a balance every homeowner has to weigh before deciding on their new deck material.
Design Your Deck To Blend In With Your Home
When you work with a reputable custom deck company, you can design your new deck to blend in with your home flawlessly. The best decks will look like they were built at the same time as your home when it comes to the design features, colors, and just how well it fits with the rest of your home. Think about accessibility to your backyard and through your back door to ensure everything fits naturally. You can also customize railings and other features with your custom deck company to make your deck a unique place to be.
Understand Maintenance Requirements For Your New Deck
Before you finally commit to a particular material and design, ask your deck patio builders what maintenance requirements are involved. As previously mentioned, wood decks require much more maintenance than other materials to extend their lifespan as much as possible. You need to wash it once or twice per year and stain or paint it every 2-4 years as needed. Plus, you'll need to keep it clean throughout the year and don't let leaves, sticks, or anything else stay on the deck for too long so mold growth doesn't occur.
Composite and vinyl decking doesn't require as much maintenance, but there are still a few things you may need to do throughout the year to keep your deck looking new. The maintenance requirements can vary by type and manufacturer, so check with the custom deck company about the requirements so you know exactly what you are investing in.
Confirm All Building Codes Before Beginning Your Project
Working with the best custom deck company is invaluable when you consider your deck could last 20 years or more. The deck contractors you work with should understand all building codes and pull the necessary permits for you. The last thing you want to happen is to be excited about your new deck and then find out it doesn't pass the final inspection or becomes structurally unsound after a couple of years.
Hire The Best Custom Deck Company For Peace Of Mind
Your new deck should be something you can enjoy for years to come. When you work with the best deck patio builders in your area, you can explain your vision for your deck to them and they will sketch it out and turn that vision into a reality. They should also make suggestions or recommendations you might not have thought of otherwise that could enhance your deck experience even more. Peace of mind is hard to find nowadays, but when you work with the best custom deck company, you can have it with your new deck.
Regan Total Construction wants to make sure you know exactly what you are investing in when it comes to a new deck for your home. Our expert deck patio builders will take the time to explain every aspect of your new deck for you so you can make an informed decision and truly enjoy your deck for years to come. When you're ready to have a conversation with one of our experts, don't hesitate to contact us to start the process.
Filed under: Decks