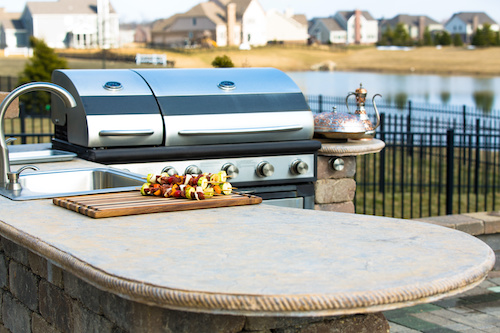 The outdoor living space of a home often gets overlooked in favor of home interior upgrades. However, not only does the outdoor living environment offer high-quality living, but it can also significantly add home value as more people want to spend time outdoors at their homes. One of the most popular ways to enjoy an outdoor living space is by incorporating a deck kitchen. If you have an old deck you rarely use, consider speaking with reputable outdoor deck contractors to see what options you have for deck kitchens. 
The great thing about a deck kitchen is you can make it as simple or luxurious as your budget allows. Some homeowners choose to design their deck where a barbecue pit or other appliances can be easily removed when not being used for cooking, while others want a more permanent deck kitchen with all the amenities. It's important to provide deck building contractors with a clear view of your vision so they can turn it into a reality. Here are some great ideas you may wish to incorporate in your outdoor kitchen while significantly enhancing your outdoor living space.
Design Your Deck Kitchen Layout And Location
Start by thinking about exactly how you'll use the outdoor space. Everything from the floor layout to the materials you want to use is important, and you may consider asking an outdoor deck contractor for some advice in these areas. While marble and tile flooring may look great, they might not be the most ideal options for outdoor kitchen spaces since they can get slippery when wet. Most homeowners opt for an open concept with the layout, depending on the amount of space in their yard. Safety should be a top concern when designing the layout, especially if you have children who will be running around frequently.
The location of your deck kitchen should get strong consideration as well. While it may be convenient to have everything located right outside your back doorstep, think about the typical wind patterns and whether smoke from the grill will be entering the home as a result. You will generally want your grill and other cooking appliances to be positioned in areas where people won't be walking or playing as frequently so that accidents are less likely. Consider the aesthetics and the views from inside the house as well, so you won't compromise either of those aspects of your living space. The deck building contractors you work with can help you think about these different factors as well.
Consider The Appliances You Will Need
When you search for "deck renovations near me," you'll see an abundance of options other people have incorporated into their deck kitchen. You can get as creative as you want with your kitchen, including any combination of a gas grill, stovetop, refrigerator, freezer, sink, and anything else you can think of you'll use. Just consider what you will use most often and how much space those appliances will require, while still leaving enough living space for you and your family to enjoy. The deck building contractors you work with can handle the details and dimensions, so you know exactly what to expect.
Storage And Countertop Space Is Important
One of the mistakes people make when designing their outdoor kitchen is not considering the amount of storage and countertop space they need. It's inconvenient to have to bring out additional tables to help you prepare food. Many outdoor cooking tools and utensils should easily be stored in the kitchen space for convenience. Your outdoor deck kitchen's goal should be to have most everything you need readily available so you won't have to go back-and-forth inside the house to get the necessary items. There may be some things you need from inside, but with the right amount of storage and countertop space, you can be prepared and have everything you need outside throughout your cook time.
Create A Relaxing Environment With Outdoor Ambiance
It's simple enough to hang some string lights around your outdoor deck kitchen to add some elegance, but you can also take outdoor ambiance a step further when working with experienced outdoor deck contractors. You can add anything from small fountains to built-in lighting and even outdoor fireplaces and television spaces. These features are nice to have if you plan to use the outdoor deck kitchen in the evening hours or simply want to sit outside and enjoy some relaxation in the evening. You don't have to host events to enjoy outdoor living, so you can be as creative as you want when designing your deck kitchen with just the right amount of ambiance. Just let your outdoor deck contractors know what you want to achieve, and they can also provide some great ideas.
Incorporate Comfort And Safety For A Relaxing Outdoor Experience
When you work with experienced deck building contractors, an outdoor kitchen can be used year-round wherever you live. Consider the climate where you live to create the ultimate outdoor living experience. This may include building a pergola or roof over the kitchen space so you can still use it when it's raining, snowing, or even during the extreme summer heat. For warm climates, you can have overhead fans or misting systems installed to increase the comfort level. For cold climates, fire pits, heat lamps, and other devices can make outdoor living comfortable even in the winter months. And if bugs and pests are problematic in your area, you can incorporate permanent or temporary netting so you can sit comfortably while enjoying your outdoor space.
Regan Total Construction has specialized in residential construction projects for more than 20 years. We see ourselves as more than just outdoor deck contractors. We put forth a full and genuine effort to create the exact outdoor living space you desire and treat every outdoor project as if we were doing it for ourselves to enjoy. Whether you have a clear vision of what you want to accomplish with your deck kitchen or if you need help with your vision, our experts can help you every step of the way. Don't hesitate to contact us at any time and see the many different projects we've completed over the years to gain some inspiration for your outdoor space.
Filed under: Decks