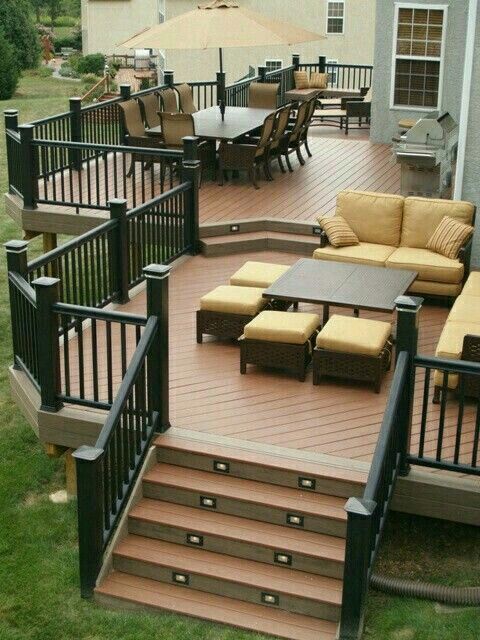 Top Deck Accessories You Need for Your Outdoor Space
Have you chosen to work with deck building contractors to install a new outdoor space? If so, you have plenty to think about—but that doesn't mean you aren't already dreaming about how you're going to decorate your new deck or patio once construction is finished. After putting in the time and effort to build a deck, it only makes sense that you would want to choose some outstanding deck accessories so you will be able to enjoy your new deck as much as possible, no matter the weather or the season. With that in mind, these are some of the top deck accessories to consider so you can make the most of your new deck or patio once your deck building contractors get things wrapped up. 
Deck and Patio Umbrellas
There are plenty of reasons to consider an umbrella when choosing deck accessories for your new outdoor space. First and foremost, it can cool things down, giving you and your guests a nice, shady spot to escape from the sun. However, as you shop for umbrellas, it can also be a good idea to scout out waterproof options. This will allow you to continue enjoying your deck even in less-than-perfect weather conditions. When working with a waterproof deck company, you can also be assured that your new deck can withstand rain as well as snow, frost, and other similar conditions. All of this combined gives you more options for enjoying your deck, no matter what mother nature throws at you. 
Potted Plants and Trees
Among the many deck accessories that can add incredible natural beauty to this kind of space are potted plants and trees. Just as there are hundreds, if not thousands of plants and trees to choose from, there are numerous ways to use them to decorate your deck. Smaller plants can be used along railings, while larger potted trees can create a natural screen for a deck. Do remember that potted plants and trees will need watering regularly, in addition to other types of care. This is why it's essential to have a deck built by a waterproof deck company so it can stand up to plenty of spills or bits of dirt coming loose, among other issues, can be so convenient.
Area Rugs and Tiles
Area rugs are more than just attractive. They also provide a more homey feel, making your deck feel more like another room of the house than just an outdoor space. It is now possible to find area rugs made to be used outdoors. These options are weather-resistant and even more durable, so they can hold up to being left out in the rain, frost, or other inclement conditions without problems such as developing mold or mildew over time. 
Meanwhile, composite tiles can be just as useful and as durable as rugs. The only difference is that they require a little bit of installation, though this is a simple process as the tiles are made up of interlocking pieces that simply fit into place over the top of your deck. These tiles are made up of various types of waterproof materials, and in addition to providing you a comfortable, non-slip surface to walk on, will also provide extra protection for your deck's surface.
Built-In Grills and Barbeques for Decks
Is there anybody who doesn't love spending time outside while cooking their favorite foods? There is nothing better than time at the grill for most people, and one of the best accessories for any deck is a grill. There are many different options available for those interested in having a grill on their deck. These include small fire pits, which can be used for cooking as well as for sitting around a small fire and relaxing. You can also find standard-sized portable grills, which can be a good choice for the average deck. However, for many, the best choice is a built-in grill. Those interested in having a grill built into their deck can speak with their deck building contractors about the possibility of having a grill worked into the design of their deck or patio.
Deck Lighting
All too often, people forget that they will be using their deck in the evening and at night as well as during the day. This can lead to a bit of a rush to find quick deck lighting options when someone is preparing for their first party on a new deck. It is far better to consider the type of deck lighting you would like in advance while thinking about all of the deck accessories you would like. There are many different choices available when it comes to deck lighting. While traditional lighting is still available, many more people are now choosing low energy LED lighting and even solar lighting, which is energy-efficient and affordable. Your deck building contractors can often help you find the lighting option most suitable for your deck's design.
Hopefully, some of these deck accessories have given you a little bit of inspiration, whether you are currently in the process of working with deck building contractors to build a new deck or you're just thinking about it. There are plenty of great deck accessories available to help you truly make your deck or patio your own, allowing it to feel like an extension of your home where you and your loved ones can feel comfortable rather than just another outdoor space. 
There are many different things that you can do to make your deck stand out from the rest, no matter what you have in mind. This ranges from adding deck accessories to complete renovations of the deck you currently have in your outdoor space. If you would like a little more inspiration, contact our team at Regan Total Construction today to speak with our experienced team of deck building contractors about the vision you have for your deck. 
Filed under: Decks
Tagged with: Deck accessories, deck lighting, Decking, Decking Contractor