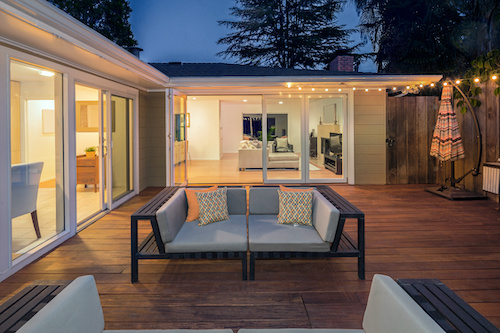 Can Building a Deck Increase Your Home's Value?
When it comes to home improvements, the construction of a new deck can be one of the most rewarding. However, building a new deck can take both time and money. That's why there are several things to consider before taking on the task of building a new deck or opting for a deck replacement. Among these things is whether decks increase the value of your home and if you're going to get a good return on your investment if you do choose to build a deck. 
What Makes a Deck a Good Investment
While it may be impossible to know for certain if you'll get a return on any investment, decks are, for the most part, solid investments that tend to pay off in the long run. This is true for many reasons. 
One factor that makes a deck a good investment, whether you're planning to sell your home or live in it for years to come, is the fact that it provides a great deal of additional living space. When you work with a quality deck contractor to design and build a deck for your home, you're essentially crafting an entirely new room for your home that can be used for everything from hosting parties and entertaining to kicking back and enjoying some time to yourself.
Additionally, when and if you do decide to sell your home you can plan to recoup up to 81% of your initial investment, getting back more than half of the money you initially spent building your deck. The only home improvements that have a higher return on investment are options such as front door replacements and new home siding, and while both can be attractive, neither are quite as enjoyable as a new deck for your home. 
Factors That Affect a Deck's ROI
Of course, there are always variables that should be considered when it comes to building a new deck or constructing a deck replacement. These variables can play a big role in just how much of a return you can expect on the investment you've made in your deck. 
One thing that's important to note is that as with any structure, you can expect your deck to show a little wear and tear over time. However, factors such as the material used in its construction will play a big role in just how much wear and tear it shows and how well it stands up to the elements. A deck that's capable of holding up well over time will typically be a much better investment, especially if you're not planning on moving out of your home anytime soon, as you can be sure it will continue to look great and provide a good outdoor living space for years to come. 
Some of the materials you may consider for a new deck or deck replacement include both quality wood as well as composite wood. These materials will hold up better over time, ensuring a long-lasting deck capable of withstanding the weather elements and plenty of use. However, before you set out to build a deck or replace an existing deck, there are some things that you may want to think about.
Things to Consider Before Building
Once you've decided building a deck will be a good investment, there are still some things to consider. Among the first things to think about is whether or not you plan to sell your house in the near future or if your new deck or deck replacement will be a longer-term investment you will be enjoying as a part of your homeownership. Those who do plan to put their home on the market may want to consider putting a bit less money into their investment. While it's still important to work with a quality deck contractor and build a good, solid deck you probably want to take into account the fact that you will be spending less time in the home and, as a result, will have less time to enjoy the deck before selling the home. 
Another thing to remember is that while decks increase the value of your home, you still want to take the size and value of your home into consideration when building a deck. While a larger and more elaborate deck may be a great option for a larger home, it may not be the best fit for a smaller home. Meanwhile, large and grand homes typically do call for decks of a similar size and quality. 
It's always a good idea to build a deck that suits the scale of your home. One good method you can use to determine whether your deck is the right size is to have a deck that is no larger than the largest room inside your home. Thinking about it this way and using this as a basis for size can help ensure your deck is proportionate to the rest of your home. 
A Final Note on Deck Construction
Regardless of whether you plan to sell your home in months or have no plans to sell in the immediate future, you want to be sure when building a deck or planning a deck replacement to get the best quality possible. This includes everything from planning out the size of your deck to choosing the best possible materials and ensuring it fits with the style of your home. 
Working with a quality deck contractor who has the expertise and experience to craft a deck that suits your home and your lifestyle will go a long way toward making sure you get the best return on your investment possible. Decks increase the value of your home, but you still have to make smart choices to be sure you're making the most of what's available to you and optimizing your return. 
If you have any questions or you would like to learn more about building an attractive, functional deck or getting a deck replacement for your home, contact our team at Regan Total Construction today.
Filed under: Decks, Wood Decks