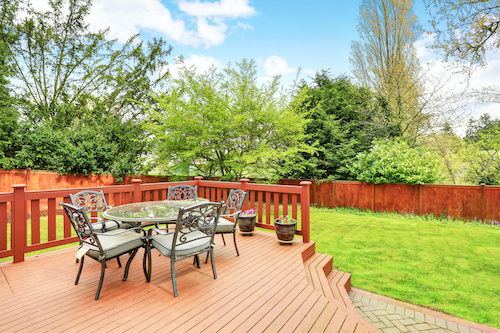 10 Ways to Make Your Deck Stand Out from the Rest
You may not be looking for some crazy, out-of-this-world design for your deck, but that doesn't mean you want it to look like every other deck on the block. After all, your deck is a part of your home, and just as you wouldn't want your home to be a carbon copy of your neighbor's abode, you don't want your deck to be just like what you see every time you drive up and down the street. Fortunately, there are some things you can do when working with a custom deck builder to give it a unique touch that makes it stand out from the rest. From basic design details to more elaborate features, here are some of the things you can do to help make your deck stand out.
1. Go for the Upgrade On Your Deck Railing
Perhaps one of the most notable features of any deck is its railing. A sturdy railing is a must for any deck, and one of the easiest ways to give your deck a unique touch is by going for an upgrade with your deck's railing. Rather than opting for simple wood railing, working with your custom deck builder to choose a stylish metal option can make your deck truly unique compared to all the other decks on your block.
2. Use an Alternative Decking Board Pattern
Something as simple as the way a deck's boards are laid out can make a big difference. For example, your deck contractor can easily lay your decking out diagonally rather than in the traditional horizontal or vertical style. It's a simple change that does not typically cost much more and can have more of an impact on your deck's appearance than you may realize. Other options are available as well, such as patchwork patterns with boards in alternating horizontally and vertically placed sections.
3. Don't Be Afraid to Light Things Up!
Lighting is always a great addition to your deck, especially when you choose low-voltage, energy-efficient lighting. When your deck specialist installs lighting into and around your deck, you gain the ability to use your deck not only during the day but into the evening and even at night. Whether you want to use your deck for parties or simply kick back and relax when it's dark outside, quality lighting can make your deck stand out.
4. Benches – a Great Bonus!
When working with your deck contractor to design your new deck, one of the things you might not immediately think about is adding in seating. However, benches can be a great touch that automatically gives you an additional seating area. Not only are built-in benches convenient, but they look great and are easy to keep up.
5. Heat Things Up… Add a Firepit
Is there anyone who doesn't love to kick back and relax around a fire? During the design process, your deck contractor can add in a fire pit. This will not only make your deck more unique but also increase its functionality. With a firepit, you can enjoy your deck even on cooler nights, whether socializing with friends or relaxing on your deck solo. A variety of materials can be used to create a beautiful and safe fire pit for your deck.
6. Curves Make Everything Better
We like curves, and adding a curve or an arch to your deck is an easy way to really make it stand out. Your custom deck builder can curve an entire side of your deck, giving it a nice arched appearance that also adds a bit of room, or they can build a curved "bumpout" into your deck's design. This is a small curve that adds just a bit of extra space where you can place additional seating, a small fire pit, a grill or just about anything else you can imagine. While it may seem like a simple tweak to traditional deck design, curves can be incredibly transformative in a deck's design.
7. The Power of Pergolas
In addition to being a design element that makes a deck much more unique, pergolas are also incredibly functional. A good pergola adds a bit of shade to your deck without making it too dark and dreary, making it easier to enjoy your outdoor space even on the sunniest days. There are just as many creative design ideas available when it comes to pergolas as when it comes to decks, so your custom deck builder can work with you to come up with an option that will truly make an impact.
8. Plan Your "Rooms"
Those building smaller decks may not need to pay too much attention to the way their deck will be divided and spaced out. However, those building larger decks will want to work with their deck contractor, taking into consideration how they'll be using their deck and the "rooms" they want to be included in its design. For example, you may want to include a lounge space, a separate area for games, and another area for serving food and drinks.
9. Make Space for Cooking
Speaking of food and drinks, if you'll be using your deck for cooking or mixing up your favorite beverages, you may want to think about adding in a space for your grill or even a bar. Not only will this make your deck more unique but it's an option that will offer you plenty of convenience in the long run. Your deck specialist can work with you to come up with a cooking area or beverage station that meets your specific needs.
10. Choose High-Quality Materials
Finally, while it should almost go without saying, one of the most important things you can do to make your deck truly stand out is to use the best materials possible in its construction. Your deck contractor can help you choose an option that is attractive, that works with your home's design and that will hold up to wear and tear so it will look as great in five years as it does the day it is built.
Are you ready to speak to a custom deck builder about crafting an option for your home that will truly stand out? If so, or if you have questions about the deck building process, contact our team today to learn more!
Filed under: Decks, Wood Decks