If you've recently wondered to yourself, "Why have I seen more deck renovations near me lately?" you're definitely not alone.
Many homeowners are catching onto a new trend sweeping the residential world by storm. Deck contractors are having trouble keeping up with all of the business that's been flooding in as more and more homeowners are looking to update their backyard.
For decades, decks have served as the central piece of architecture for the backyard area. Whether you're into grilling or just enjoy sitting outside and enjoying the fresh air, a deck is the perfect hosting area. Perhaps one of the most transformational yet simplest changes deck contractors can make to your backyard is with deck lights. Deck lighting can make your backyard space more inviting, warm, and safe. It extends the amount of time you can spend outside while acting as a guiding light as well.
If you've been thinking about some ways to incorporate deck lighting into your backyard space, it's time to take it up a notch. With a custom deck company, you have more freedom to be creative. These professionals have the expertise and tools needed to bring your dreams to reality. To help kickstart the creative process, let's take a look at some of the best deck lighting ideas.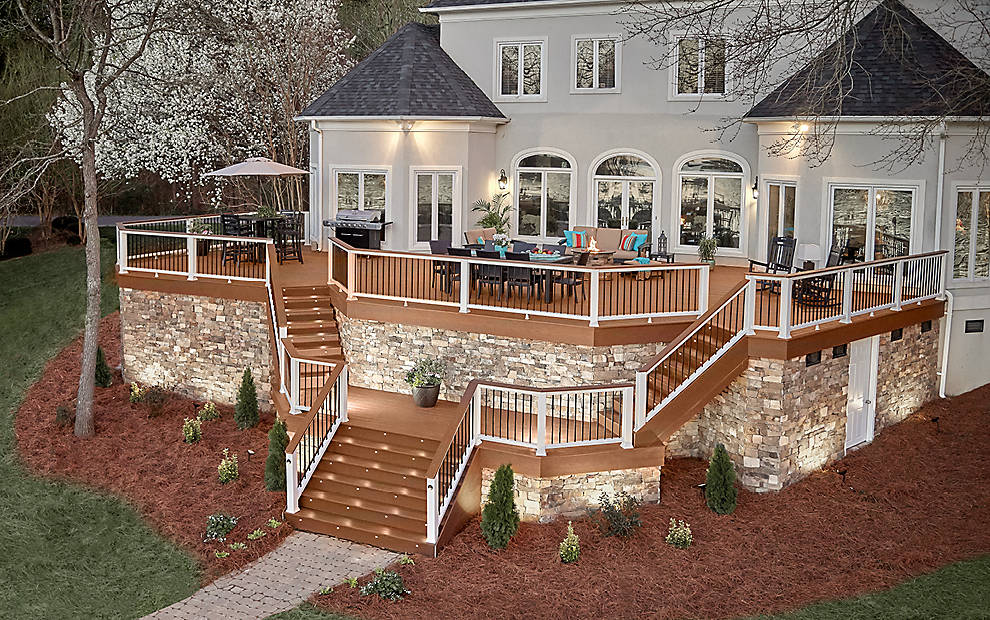 Deck Stair Lighting
Whether your deck is just a few feet off the ground or it descends from the top level of your home, it can be difficult to use stairs when lighting isn't sufficient. Since nobody wants to be barred from using their deck when the sun goes down, deck stair lighting is a great option. Deck contractors have been installing these lights for decades as one of the most popular deck lighting options. They're great for providing light to help guests step more carefully while also adding a nice aesthetic touch.
String Lighting
Every December, homeowners eagerly break out their Christmas lights and let loose. A quick drive down the street will reveal lights draped over trees, hanging from rooftops, and even wrapped around some decks. Instead of waiting each year, why not make it a norm to have LED lights around your deck? Hanging string lights is a great way to create a relaxing atmosphere. If you want to make it a little more festive, a custom deck company can easily throw in a pop of color to the lights. This popular outdoor decor item isn't going away any time soon, so you might as well jump aboard and enjoy a deck with hanging lights.
Under-Table Lights
All deck contractors will tell you just how empty a deck can feel without furniture. Tables, chairs, benches, storage units, and even the occasional hammock if you're lucky, make the space more inviting and help facilitate meaningful interactions. However, as the sunlight goes down in the evening, you'll want some light to help everybody see what's going on. While standard deck lighting overhead works great, something more immediate is also handy. That's why an under-table light is a great addition to your new deck design.
Recessed Lighting
If you've invested in a deck with some sort of overhead protection, you can take advantage of this design with recessed lighting. Instead of being exposed to the elements, this lighting is protected both from damage and debris. This means less cleaning for you and a longer-lasting lighting system. While the recessed lighting helps to illuminate the space, it also adds an ambient effect that's sure to serve as a great conversation piece. Deck contractors can make sure these subtle lights settle flush with your deck for an even more aesthetic effect.
Post Lights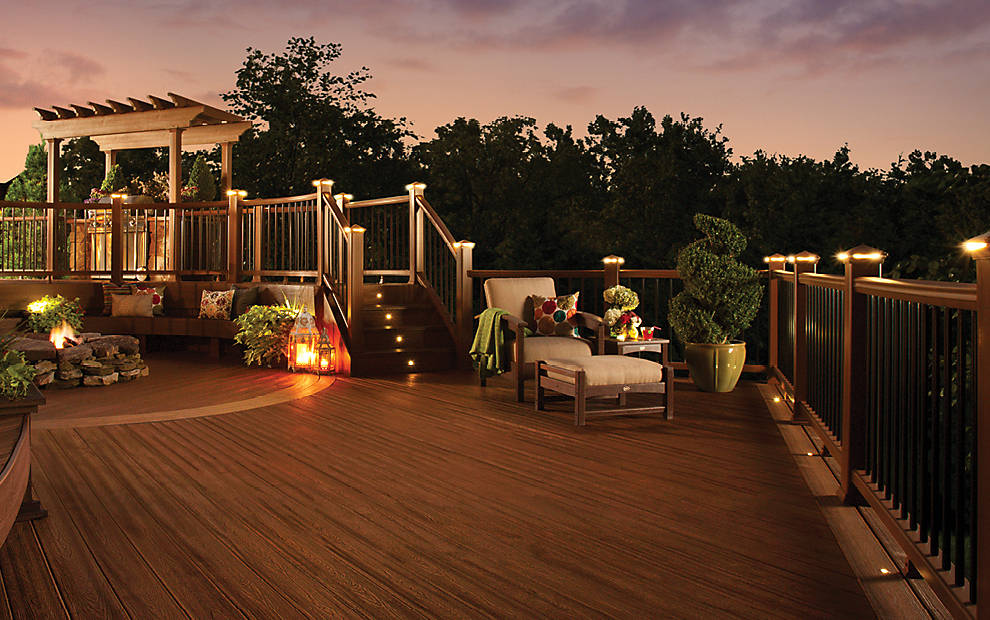 Most decks are designed with posts that work perfectly for holding lights. These deck cap lights can be applied easily and quickly, limiting the amount of time you have to spend on the renovation. You can have these lights set to a timer to turn on automatically, so you never even have to give it a second thought. In addition to lighting the way to help limit the chances of people slipping on stairs or stepping stones, these deck cap lights also work to give your deck a fancy yet welcoming feeling.
Landscape Lights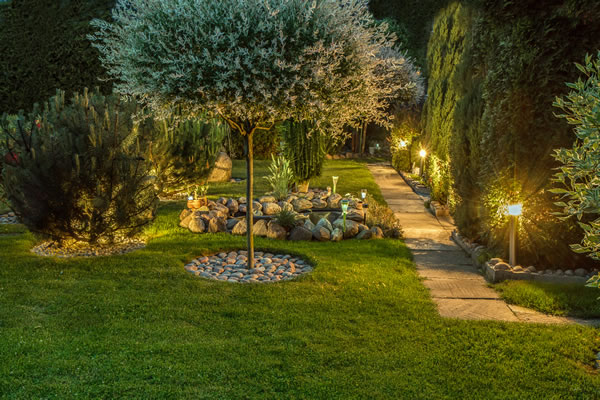 Deck contractors often advise homeowners to place some sort of accent around their deck in order to avoid having a harsh contrast between it and the backyard. This can come in the form of a walkway, garden, or even a concrete extension of the deck. Either way, it's helpful to consider the impact of lighting in this area. It can make the entire area feel much more spacious and inviting while also increasing the amount of usable space as daylight diminishes. Whether you want to use pathway lights, spotlights, or wall lights, there is a variety from which you can choose.
Pergola Lights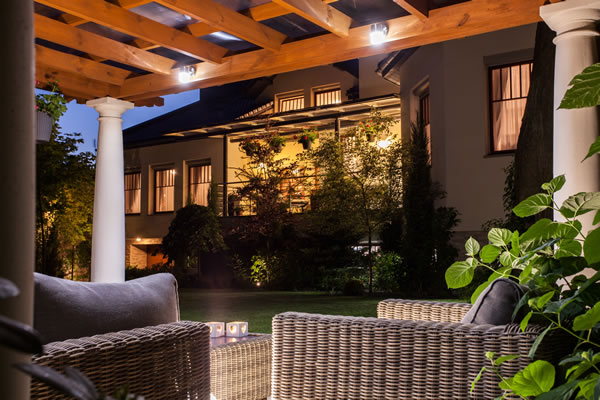 If your custom deck company installed a pavilion, pergola, or other shade-like structure on your deck, this could be a great place for installing lights. Whether you have these lights weave in and out of your pergola or have them hang down, they're perfect for accentuating the overall design while providing sufficient lighting.
Deck lighting is an absolute must for homeowners who can't get enough of their decks. While there are a wide variety of options from which to choose, deck lighting can work to create a more welcoming, aesthetic, functional, and safe backyard space. When searching for the best deck lighting, it's important to work with only the best deck contractors.
With years of experience perfecting outdoor spaces, Regan Total Construction has the expertise and experience needed to ensure your deck renovations are on par with your expectations. We are a member of NADRA(The North American Deck and Railing Association) and a certified Deck inspector. Our deck contractors know how to transform your unused backyard space into your favorite place in the home. Feel free to contact us to learn more about our services and how we can help.
Filed under: Decks, Trex Outdoor Lighting, Wood Decks